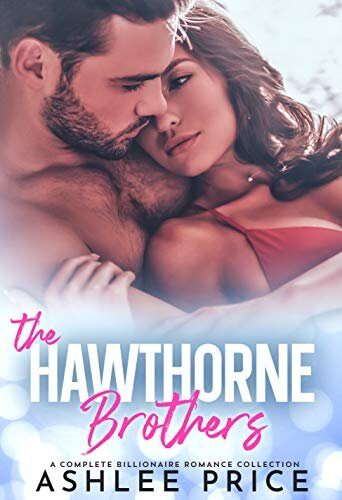 Meet the Mouthwatering Hawthorne Brothers.
Provocative. Playful. Rich. Addictive AF.
Dive into this bestselling romance collection and,
Let these protective swoon-worthy brothers entertain you all night long.
Includes the Following Books:
Book One: Billionaire's Baby Contract
I shouldn't have read my secretary's diary,
In my defense, I didn't know it WAS her diary at first.
But it made one thing clear…she wanted a baby,
And it just so happens—so did I.
The night I gave in,
The night I reached out and pulled her to me,
It wasn't driven by my plan to ask her for a child,
It was two years of pure pent up desire.
It's simple:
No relationship obligations,
No financial obligations,
Just a baby.
Or so I thought.
About the time I feel like I've completely shot myself in the foot,
I find out,
I'm not the only one hiding a secret…
Book Two: Happily Enemy After
Landing my dream job: Check.
Signing the lease on a luxury apartment: Double Check.
Finding out my new boss is the jerk that broke my heart in college,
And he's my new neighbor: FML.
Asher Hawthorne is the epitome of a stuck-up suit,
He's got a rich daddy with endless connections,
And a drop-dead smile that could have a saint week in the knees,
But not these knees, not after he took me to a party in college only to leave with someone else…typical.
Rude and arrogant I can handle,
But when he starts to play nice,
My entire plan goes out the window.
Who the hell does he think he is making me fall for him all over again?
One stupid, thoughtless kiss and there go my traitor knees,
But as one kiss turns into so much more,
I realize that the line between love and hate,
Is blurred by the reminder of why I fell for him in the first place…
Book Three: Breaking The Bro Code
I'm a rule follower, always have been,
Nothing says OFF LIMITS like your best friend's little sister,
But the moment my lips touched Claire's,
I threw the whole damn book out the window.
I know, I broke "bro-code,"
And I deserved the punch to the nose I got for it.
I can have any girl I want…not cocky, just facts,
And of course I had to fall for her.
I should have told my best friend,
I shouldn't have let him find out when he caught me making out with her,
The night before his wedding.
Hiding my relationship with Claire was hard,
Hiding my feelings for her,
That's a secret I'm not sure I can keep any longer…
Author's Note to Readers:
-Heat up your nights with this box set of 3 full-length standalone romance novels.
-Be prepared for an emotional roller coaster of page turning heat and off the charts chemistry.
-No cheating, no cliffhangers and a happily-ever-after guaranteed to leave you very satisfied.
Extended Epilogue:
-This collection includes a never-before-published extended epilogue that can be found at the end of Book Three that you won't want to miss!