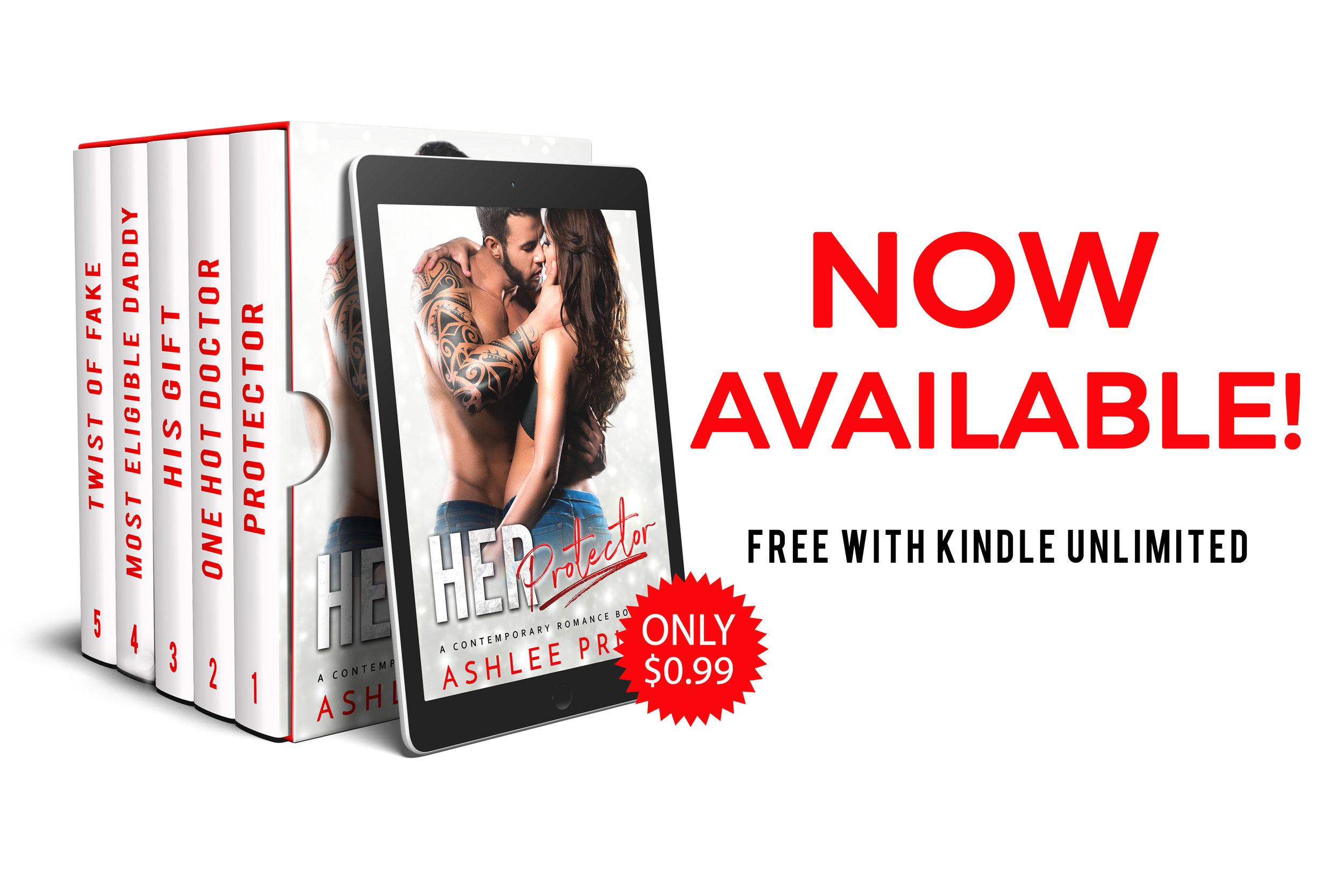 5 full-length novels for readers who love their stories filled with hot billionaire protectors, dreamy doctors, accidental marriages and steamy single dads. Escape into the world of these hot alpha males and let them entertain you all night long.
Book 1 – Protector
Ex-Firefighter. Current Boss. Future (Pretend) Husband.
"Save me."
I saw that plea in Robyn's tear-moistened chestnut eyes the moment she stepped off the back of my truck.
How could I refuse?
Heck yeah, I'll protect her.
I'll go through flames for this woman.
I'll even marry her and father her child.
I'll keep her from being harmed.
But can I still protect her when my darkest secret is her greatest fear?
Book 2 – One Hot Doctor
A lot has changed in the 7 years since I saw Ava…
Yes, I'm still the only son to billionaire parents.
And yes, I'm a doctor now who seems to have women blog about my looks every time I do a TV interview.
But Ava's despair runs deep.
Her arrogant, abusive fiance makes me sick.
Underneath her fragile exterior, I can see she has so much more to offer.
Ava and I belong together.
I knew it then and I know it now.
I'm the only one that can rescue her from this mess.
But how can I heal Ava's deepest scar if I'm the one who left it?
Book 3 – His Gift
The moment Jordan's doe eyes met mine, I knew I had to have her.
Hard not to when a gorgeous woman stumbles into your life.
After I claimed her sweet innocence, we lost touch and I focused on building my fortune.
Seeing Jordan while I was taking a holiday break in a small town was an unexpected surprise.
But she's different now.
Her guard is up.
She can pretend to hate me all she wants but she can't deny our magnetic attraction.
And her son? He sure does look and act a lot like me.
I'll make her mine.
Despite the odds stacked against us.
After all, I have a special gift for her.
Book 4 – Most Eligible Daddy
The first time was spur of the moment. The second time will be forever.
I never thought I'd fall for a girl in overalls and muddy boots until I met Quinn Hardy.
She's the best thing that came with this run-down farm.
The loss of my wife left me empty and struggling to raise a daughter.
Years later, not even all my wealth can fill the void.
But with Quinn, I see everything I want in a woman.
I'll show her what a real man is like.
I'll crush those greedy neighbors eyeing her land the way I stamp out those trying to mess with my company.
I'll destroy anyone and anything that gets in my way.
Book 5 – Twist of Fake
"I'll be your fiancé."
I never thought I'd need one to impress a client and get a promotion.
Where's a virgin like me supposed to find someone like that?
And I never in my wildest dreams thought he'd volunteer.
Lucian.
That mysterious drool-worthy mechanic from down the street with a mean streak.
The moment I saw those inked arms, I wanted them wrapped around me.
Yet I kept all those fantasies to myself, never knowing I'd have a chance to make them real.
Real? No. All this is pretend.
Just a game with the highest stakes:
My body and my heart